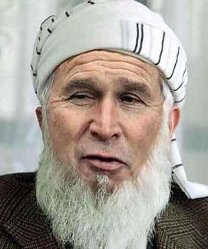 American Terrorists
Because I do it with one small ship, I am called a terrorist. You do it with a whole fleet and are called an emperor.
~ A pirate from St. Augustine's City of God circa 410 AD.
American Terrorists
The word terrorist is so loaded with negative connotations that many Americans have used it very loosely to tar their enemies, e.g.:
Anyone who criticises the president.
Anyone who harms an American, civilian or soldier.
Anyone who disagrees with the Neocon political philosophy.
Anyone who offered themselves as a human shield to protect brown-skinned people in Palestine, Afghanistan or Iraq.
Anyone who opposes the war in Afghanistan or Iraq.
Anyone who publicly announces the government ought to regulate corporate polluters.
Anyone who joins a demonstration to protest government or corporate actions.
Anyone who burns a flag.
Anyone who believes abortion should be the decision of the mother.
Homosexuals.
Anyone who teaches evolution instead of creationism.
Anyone who does not give lip service to a belief in god.
Historian's Definition
Bill O'Reilly and Rush Limbaugh have made such effective use of the terrorist smear tactic, that I doubt people in general will be much interested in using the term terrorist precisely. However, it does have a clear meaning.
Terrorism : killing civilians with the intent of changing their political affiliation.
~ Caleb Carr (1955-08-02 age:62), military historian

I would modify that definition slightly. I don't think nuts who act completely on their own should count as terrorists. I think they need to be associated with an organisation to count as terrorists.
Any action constitutes terrorism if it is intended to cause death or serious bodily harm to civilians or non-combatants with the purpose of intimidating a population or compelling a Government or an international organization to do or abstain from doing any act.
~ Kofi Annan (1938-04-08 age:80) secretary general of the United Nations
Thus terrorism includes:
bombing civilians.
shooting civilians.
killing civilians by flying aircraft into buildings.
killing civilians with poison gas or other banned weapons such as napalm, white phosphorus, land mines and cluster bombs.
Terrorism does not include:
bombing soldiers.
shooting soldiers.
killing soldiers by flying aircraft into buildings.
killing soldiers with poison gas or other banned weapons such as napalm, white phosphorus, land mines and cluster bombs.
expressing unpopular opinions.
Criticising government leaders.
protesting.
Refusing to serve in the military.
Killing your mother to get an early inheritance.
Negligent contaminating lettuce with E. Coli bacteria.
Not all evil deeds are terrorism. Note that in determining what constitutes terrorism, it does not matter who does the killing. What matters is who is killed. In particular, when soldiers or civilians kill soldiers, it is not terrorism, no matter what means they use. That is just ordinary warfare. When soldiers kill civilians it is terrorism, no matter what means they use.
FBI (Federal Bureau of Investigation) Definition
The FBI define terrorism in a similar way, using more bureaucratic language:
Terrorism: the unlawful use of force against persons or property to intimidate or coerce a government, the civilian population or any segment thereof, in the furtherance of political or social objectives This definition includes three elements:

Terrorist activities are illegal and involve the use of force.
The actions are intended to intimidate or coerce.
The actions are committed in support of political or social objectives. (FEMA-SS)

FBI
Legal Definition
Here is how terrorism is defined in US law:
The term international terrorism means activities that:

involve violent acts or acts dangerous to human life that are a violation of the criminal laws of the United States or of any State, or that would be a criminal violation if committed within the jurisdiction of the United States or of any State;
appear to be intended:

to intimidate or coerce a civilian population;
to influence the policy of a government by intimidation or coercion; or
to affect the conduct of a government by mass destruction, assassination, or kidnapping;

and
occur primarily outside the territorial jurisdiction of the United States, or transcend national boundaries in terms of the means by which they are accomplished, the persons they appear intended to intimidate or coerce, or the locale in which their perpetrators operate or seek asylum.

~ Findlaw.com
In short terrorists are people who kill civilians to browbeat them into changing their politics.

Note there are no execeptions to being considered terrorism when white Christians kill Muslims, when Americans kill Iraqis or when god-fearing people kill evil-doers, or when the people killed hated the killers.
So Are the Americans In Iraq Terrorists?
Americans have killed over 100,000 civilians, mostly children in Iraq. This is the only peer-reviewed scientific statistic of the war. Politicians have denied it, but the figure still stands. As science, it cannot be easily dismissed.

That makes them terrorists, whether you approve of that action or not. This makes the American soldiers in Iraq international war criminals and also criminals under American law. Had Hitler won WWII (World War II), prosecuting he Nazis would have been much delayed. Similarly, since America is so militarily powerful, it will be hard effect mass prosecution. Only a few lesser lights who stray outside the protection of the USA will be nailed to start. Germany has already started prosecuting. Consider that some Nazis were not prosecuted until they were in their 90s. The political balance of power could change substantially over the next 70 years. American involved in the terrorism cannot count on perpetual protection.

Iraqis have killed American soldiers in Iraq. They are not terrorists. Killing soldiers is ordinary warfare, not terrorism. You can argue that killing in defence of their own country is wrong by Christian morality, but it is still not terrorism.

Iraqis have killed mercenaries and various support people in Iraq. All of these people were present in Iraq to support the invasion and occupation. There were not bystander civilians. They are aiding and abetting the terrorism against the Iraqi people and are thus also international war criminals. Killing them does not count as terrorism. It is ordinary resistance warfare. It has nothing to do with whether you support or condone such killing. It is simply a matter of the definition of terrorism.
The Laugh Test
I have received emails from many Americans utterly convinced that Americans have killed no civilians in Iraq. If anyone did it, in their view, it must have been someone else. Americans are Boy Scouts, the good guys. They could not possibly have done such a thing. Any evidence to the contrary must be lies. Any photos of the alleged evil deeds must be fakes. That does not pass the laugh test. Consider:
America has spent a trillion dollars, (that's forty-thousand dollars per Iraqi man, woman and child) to force them to surrender. That's one heck of a lot of mayhem.
America has the biggest and most advanced military on earth. It has been pounding Iraq since 2003, longer than WWII, and still the Iraqis will not surrender and hand over control of their natural resources (mostly oil) to the Americans. Do you seriously think the USA has not given it a serious shot in all that time especially considering the political flack George W. Bush has endured for not prevailing?
Military men routinely complain on TV about the difficulty of telling the resistance and ordinary civilians apart and of their desire to lower the proportion of civilians they kill.
Americans hire Shia Iraqis for the IP (Internet Protocol) (Iraqi Police). These young men bomb around on motorcycles killing civilians (mostly Sunni), looting and extorting. As their employers and arms providers, Americans are also partly responsible for this violence.
As part of a successful divide and conquer policy, Americans fomented friction between Kurds, Sunnis and Shia and fomented a civil war. They provided arms to feed it. They are thus partly responsible for the civilians killed.
Body Counts from many sources show Americans have been butchering Iraqis like fish is a barrel.
American soldiers hate Iraqis with almost the intensity that Nazis despised Jews. It is only natural they would mistreat them. Read the stories and discoveries of the military courts. Look at the photos. They imagine they are defending the USA against them, rather than invading and occupying their country and hence that any cruelty is justified.