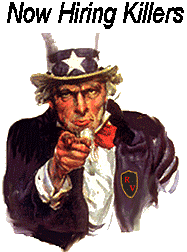 The Draft
The Draft
The draft is coming because Bush cannot suck enough people into enlisting or re-enlisting. He also needs more cannonfodder for his coming Iran war. He is already resorting to the back door draft, not letting soldiers come home when their agreed term is up. He can get away with this because of the fine print in the enlistment contract.

You should protest the draft now! Unlike Viet Nam, you won't be able to duck across the border to Canada. Bush has arm-twisted Canada into allowing his dragoons to enter Canada and return with anyone he pleases suspected of being a draft dodger or a deserter. He can take anyone, even Canadians, all without any recourse to the Canadian courts. Once he captures you, the Patriot Act allows him to indefinitely and secretly detain and torture you.

Don't wait until you have taken up residence in the Guantánamo Arms where no one can hear you before you protest.

You will have to select an escape country ahead of time that will let you in and that does not have a draft extradition treaty with the USA. Start planning your escape today. Immigration wheels can take a year or more to grind. In a pinch you might hide in Canada while looking for a permanent home.

In making your draft escape plans, keep in mind Homeland Security monitors all airline flights. Make sure you book a return ticket to your escape country to reduce suspicion. Better still, travel by car to make it more difficult for the authorities to track your movements.