Bush's Time Travel Project
Bush's Secret Time Travel Project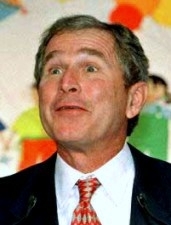 I have made good judgements in the past. I have made good judgements in the future.
~ George W. Bush (1946-07-06 age:71)
I am mindful not only of preserving executive powers for myself, but for my predecessors as well.
~ George W. Bush (1946-07-06 age:71)
Washington, D.C., 2001-01-29
One year ago today, the time for excuse-making has come to an end.
~ George W. Bush (1946-07-06 age:71)
Source: Federal News Service, Remarks by President George W. Bush on Anniversary of No Child Left Behind Act, Washington, D.C., 2003-01-08
Today's struggle against terrorism will require the sacrifice of our forefathers, but it is a sacrifice I can promise you we'll make. It's a sacrifice for the good of America, for the good of France, for the good of freedom around the world.
~ George W. Bush (1946-07-06 age:71)
at Ste Mère Eglise, near Utah beach.