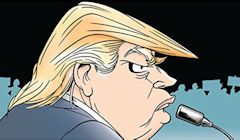 Donald Trump
Donald Trump is a criminal and compulsive liar running for President of the USA on 2016-11-08. If people knew even 10% of the truth about him, they would never in a million years vote for him.
If Trump Wins…
If Trump wins and a Republican senate and congress lets him do what he said he would do…
Trump will reverse all efforts to contain climate change and send the world past the tipping point of no return. It is thus a matter of life and death for every person on earth to stop him.
Trump will use a small nuke in battle to prove to the world he would be willing to do much worse. He is essence a bully and can hardly wait to get his hands on the ultimate bully tool. As he said What good are nukes if you don't use them.
He likes nuclear proliferation, starting with South Korea, Japan and Saudi Arabia.
The USA will default on its debt. Bankruptcy after stripping assets is how Trump acquired his wealth. This will trigger a global shock wave.
Trump will bankrupt the country with military spending, his massive tax cuts, his wall and rounding up illegal aliens.
Trump will trample the civil rights of Latinos, blacks, gays, Muslims, non-Christians and anyone else who does not adore him.
Trump will drastically curtail international trade by reneging on trade agreements and instituting high tariffs.
Trump the Con Man
Trump has bragged that he is proud of the fact he has not paid any income tax.
Trump stiffed thousands of workers after properly completed construction work for him.
Trump repeatedly and illegally dipped into the Trump Charitable Foundation for personal expenses.
Trump grossly exaggerated his income.
Trump grossly exaggerated his business acumen. His businesses came in last by every metric is a list of hundreds. He will run the USA into bankruptcy, while getting rich personally, just the way to did to all his companies.
Trump the Liar
Trump claimed Obama was born in Kenya despite having no evidence that was so, and despite Obama's birth certificate, government records, a statement from the governor of Hawaii and a newspaper birth announcement from the time.
Trump excused his lie saying it forced Obama to show his long form birth certificate. Legally the short and long form are equivalent, so it did not matter. Further Trump kept up the lie for years after Obama showed his long for birth certificate. His supposed motive for lying does change the fact he lied and pointlessly harassed Mr. Obama for years.
Trump said that Hillary had done something illegal with the emails and he would lock her up. She made a mistake. She used the wrong email server. That was hardly a crime, more a mistake by her IT guy. She was exonerated on any crime.
Trump said that his massive tax cuts for the rich would create huge numbers of jobs. Every time this has been tried, it did not work. The rich just put the money in the bank or spend it on foreign luxuries. If you want jobs, you don't give people money unless they create jobs with it. Trump's theory is like throwing $100 bills on your lawn and hoping some of the people who take them will mow your lawn for you.
Trump suggested he could renegotiate all trade agreements with terms substantially more favourable to the USA. He conveniently forgets that the other side is going to press just as hard as they ever did for terms favourable to them. There is no reason they would accept a worse deal than they had already. That is just wishful thinking based. He imagines everyone will cave in obeisance to his Wonderfulness. He says he is going to fire all the country's negotiators and hire new better ones. Really?
Trump denied that he said that climate change is a hoax perpetrated by the Chinese. Yet he tweeted it several times. The debate was the first time Trump presented himself as other than a climate change denier.
Trump the Boor
The president is the country's chief diplomat. Unfortunately, Trump enjoys insulting people just for fun. If he insults world leaders, he will ruin international relations with other countries.
He confessed to serially sexually assaulting women.
As of 2017-11-17, 21 women have accused him of sexual assault.
He is in court for raping a 13-year-old girl.
He tried to buy sex from a married woman, Nancy O'Dell by offering her a shopping trip to a furniture store. Trump was also married at the time.
He called a beauty queen, Alicia Machado, a fat pig.
He called various women pigs, slobs and dogs.
He said that all black people struggle to get by on food stamps.
He mocked a reporter who had a birth defect that made it impossible for him to control his arms.
He said that all Mexicans were rapists.
He wanted to expel all Muslims because they were likely terrorists.
Trump said that anchor Megan Kelly had blood coming out of her eyes; blood coming out of her — wherever..
Trump mocked the parents (Khizr and Ghazala Khan) of a soldier (Humayun Khan) killed in Afghanistan. I don't think war criminals should be honoured, but very few Americans agree.
He said that he would like to date his daughter. He said it in such a leering way it was clear he meant fuck.
He said he would force Mexico to pay for his wall that has no value to Mexico.
Trump the Fruitcake
Trump repeatedly asked his security advisor What is the point of having nukes if we never use them?
Trump, Shredder of Constitutions
He threatened to lock up Hillary Clinton without due process.
He wanted to have a religious test for immigrants.
He wanted to institute stop and frisk, in violation of the fourth amendment.
He wanted to revoke the first amendment rights of journalists.
He wanted to make torture legal.
He called for the killing of the families and children of terrorists.
Books
Book referral for Insane Clown President: Dispatches from the 2016 Circus
recommend book⇒Insane Clown President: Dispatches from the 2016 Circus
by
Matt Taibbi
978-0-399-59246-1
hardcover
birth
1970-03-02 age:48
B01N1R9W4X
kindle
publisher
Spiegel & Grau
published
2017-01-17
A collection of columns written for Rolling Stone. He absolutely detests Trump. He does not just disagree with him, he loathes him.
Greyed out stores probably do not have the item in stock. Try looking for it with a bookfinder.
Book referral for Trump Revealed
recommend book⇒Trump Revealed
by
Marc Fisher, Michael Kranish
978-1-4711-5971-8
paperback
birth
1958 age:59
978-1-5011-5577-2
hardcover
publisher
Simon & Schuster
978-1-5011-5578-9
eBook
published
2016-08-23
978-1-5082-2675-8
audio
B01E4NF0GC
kindle
aka Trump Revealed: An American Journey of Ambition, Ego, Money, and Power. Balanced, aiming not to disturb Trump supporters or detractors. Written by a team of 24 Washington Post staff. Written during the primaries.
Greyed out stores probably do not have the item in stock. Try looking for it with a bookfinder.
Book referral for The Making of Donald Trump
recommend book⇒The Making of Donald Trump
by
David Cay Johnston
978-1-61219-632-9
hardcover
birth
1948-12-24 age:69
978-1-61219-633-6
eBook
publisher
Melville House
978-1-5047-9342-1
audio
published
2016-08-02
B01GYPLR1U
kindle

Johnston is a Pulitzer prize winner.

Johnson has been following Trump since the 1970s. Trump has sold himself as a successful businessman. Yet in a study of hundreds of American businesses, Trump's came in last place by every metric. Trump is a criminal and been convicted over and over. He has ties to the Mafia. He ignored the Cuba embargo. He hires undocumented workers. He refused to allows black and Puerto Rican into his housing projects. He has paid no income taxes. He collects welfare. He dips into his Trump charitable foundation illegally for personal expenses. Tax lawyers have been able to deduce to reports far less income than he brags about publicly. In addition there are thousands of lawsuits pending against him by people who did work for him who Trump then stiffed. Trump tax cut would add 10 trillion to the existing 19 trillion debt. That is hardly the way to make America great again.

Trump's life philosophy is revenge. If anyone refuses to do him a favour, that is treated as an attack and he sets out to ruin that person's life. Trump greatly enjoys taking revenge.

When Johnston started the book, Trump told him if he said anything he did not like, he would sue. So far he has not.

Greyed out stores probably do not have the item in stock. Try looking for it with a bookfinder.
Book referral for Yuge!: 30 Years of Doonesbury on Trump
recommend book⇒Yuge!: 30 Years of Doonesbury on Trump
by
G. B. Trudeau
978-1-4494-8133-9
paperback
birth
1948-07-01 age:69
978-1-4494-8209-1
eBook
publisher
Andrews McMeel Publishing
B01G6ACK32
kindle
published
2016-07-05
Trudeau has used Trump as a character in his strip since the 1980s. Trump adores attention, so he has been a very public character for a long time.
Greyed out stores probably do not have the item in stock. Try looking for it with a bookfinder.
9 ways Donald Trump is a sociopath