Handbook To Higher Consciousness
Appendix 4
Workshops for Personal Growth
Appendix 4
Workshops for Personal Growth
The Ken Keyes College in Coos Bay, Oregon offers a variety of personal growth workshops. Depending on your needs and interests, some are as short as a weekend, many are five-day courses and some are longer. Weekend workshops are now being offered in the larger cities throughout the United States.
All of the trainings are designed to show you how to break through your personal roadblocks to enjoy your life more fully. The emphasis is on the practical application of the Science of Happiness in your daily life — instead of on knowledge alone.
The lives of more than 20,000 students, businesspeople, teachers, homemakers, counselors, doctors and others have been enriched by the workshops we have been giving since 1973. Many people come for one training and decide to stay for several. Our participants are discovering firsthand that the Science of Happiness presents methods that work — regardless of the up-and-down circumstances in their lives.
Our workshops provide you with practical tools you can use to increase your insight, love, energy and the joy of living. Group activities combined with individual practice provides each participant many opportunities to explore issues such as relationships, self-esteem, career, parenting, money, health and opening up one's loving spirit.
We are eager to assist you in discovering ways to create a more satisfying life. The greater awareness and personal empowerment gained in our trainings can help you enjoy increased effectiveness in your life. The skills you learn are yours to keep and use in any situation, so that your growth can continue after the training is over.
These dynamic courses include room, board and instruction at nonprofit prices that run about one-half the usual cost of other workshops. They are held in an environment offering great natural beauty and recreational opportunities. Across the street from the College are public tennis courts, jogging trails and a delightful duck pond. Nearby are many attractive beaches; within an hour's drive, there are spectacular waterfalls and the Oregon Dunes National Recreation Area. Located on scenic U.S. 101 on the Oregon coast, Coos Bay is easily accessible by car, bus, or air. We invite you to visit us soon!
For a free catalog of workshops and other courses offered by the College, send your name and address to Registrar, Ken Keyes College, 790 Commercial Ave., Coos Bay, OR 97420. Without charge you will receive a quarterly catalog listing nonprofit workshops, books, audiotapes and videotapes. If you wish more information about the trainings, you may phone the Registrar at (503) 267-6412. no longer available.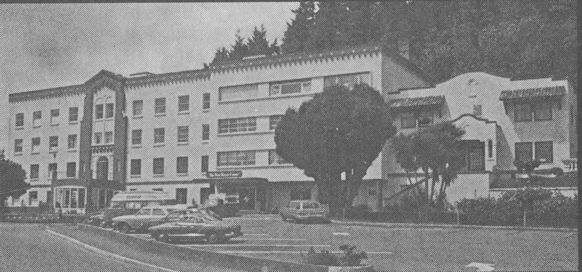 Ken Keyes College
Coos Bay, Oregon