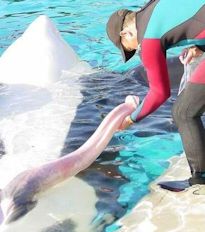 Cetacean Captivity
Why Free the Whales
The time has come to stop confining cetaceans in captivity.
The basic reason is cetaceans are superior to us in intelligence. We would not confine humans so we should not confine whales.
In the wild, cetaceans travel hundreds of miles a day. Confining them to a small cement pond is equivalent to wrapping a human in a body cast so they can not move for decades at a time. It is a form of torture.
As can see in the picture in the top corner, cetacean captors are forcing cetaceans to breed, much the way slave owners chose the mating partners of their slaves. This is not something you should do to a species your intellectual superior.
Why Keep Whales in Captivity
Here are the reasons given by officials at the Vancouver Public Aquarium for keeping whales in captivity:
Note that all these reasons are benefits for humans, not benefits for the whales captured. It never occurs to their keepers to think of whales as intelligent individuals with a right to a pleasant life. They think of them as cattle whose only function is to serve man. The arguments for cetacean captivity are similar to those just to justify slavery. The arguments were only about the benefits to the slaveowners and considered the welfare of the slaves irrelevant.