carbon dioxide molecule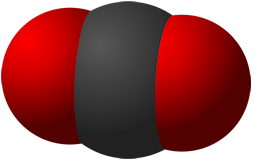 carbon dioxide molecule

aka CO₂. The gas that gives pop its fizz. plants use it during photosynthesis, emitting oxygen. people, animals (and machines) breathe it out during metabolism.

You breathe out about 215.46 kg (475 lbs) of carbon dioxide each year. Just to absorb that, not considering the 20.40 tonnes (22.49 tons) the average American creates by burning fuels, requires 7 trees. To handle all the CO₂ requires 95 trees. We have already levelled over half the planet's forests, even though we have only a minute fraction of the trees we need.

If the concentration reaches 5%, it will kill you. though it forms only 387 parts per million of the atmosphere, it acts like an effective planetary greenhouse. CO₂ is one of the greenhouse gases. When high energy rays hit a molecule of CO₂, it converts them to heat which cannot escape, warming up the earth. The same molecule of CO₂ can keep on converting rays ad infinitum. Because we humans have been burning fossil fuels at an astounding rate, we have hugely increased the amount of CO₂in the air and this powerful warming effect is getting out of hand.

As you have probably noticed if you warm pop or shake it, the CO₂ fizzes out into the air. The same thing happens to CO₂ dissolved in the ocean as global warming heats the water. This creates a vicious circle where the CO₂ released warms the water causing still more CO₂ to bubble out. You have a run-away effect.
An international agreement to reduce greenhouse gas emissions. 80+ countries have now ratified the Protocol, including 18 industrialised countries (the fifteen member states of the European Union EU plus the Czech Republic, Norway and Romania), Japan, Russia, China, India, Canada and New Zealand.

Under George Herbert Walker Bush, the USA signed the Kyoto treaty on 1992-12-06. It ratified it in 1992-10-15. It came into effect on 1994-03-21. Under George Walker Bush, the USA reneged on the agreement in 2001.

There are only three other countries refusing to ratify the treaty: Australia, Monaco and Liechtenstein.

Even though Canada and the USA whine piteously about he difficulty of implementing Kyoto it is just a tiny step toward what is required.
It might take another 30 Kyotos over the next century to cut global warming down to size.
~ Jerry Mahlman (1940-02-21 age:78) director of the Geophysical Fluid Dynamics Laboratory at Princeton, Science Magazine
water molecule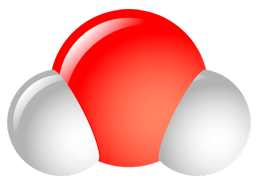 water molecule

Chemically, water is H₂O. A water molecule has an oxygen atom in the middle flanked by two hydrogen atoms at 104.45 degree angle. Whenever hydrogen burns, you get pure water.

It sounds a bit odd that scientists are concerned about running out of water when most of the planet in covered in it and when there are just as many water molecules as there ever were on planet earth. What they mean is we are running out of clean, fresh water. Even though rains continuously replenish the clean water supply, we have polluted the rivers, lakes and streams making them unsuitable for drinking or agriculture. Further, we are rapidly draining the underground aquifers which took eons to fill.

When you save water, you are not only conserving clean water, you are conserving the energy needed to pump filter and treat it and the energy to heat or cool it.

In the home, you use the most water with your toilet, your shower and your laundry. Measures such as refusing to serve water in restaurants are mere tokens.

To improve your toilet, get a premium toilet with a #1 small and #2 big flush handle. A low-cost solution is to avoid flushing for a #1. Consider putting a brick in the tank. Consider getting a modern toilet that uses less water with more pressure. If you don't have a sewer hookup, you might consider a composting toilet. These are expensive but, to my surprise, don't stink.

You can install a low flow shower head that gives you good pressure with low flow. Consider turning off the shower when you soap up. A valve that lets you cut the water flow on and off without changing the temperature will make it much more comfortable to do this. If you like to take 14+ minute showers, you are better off to take a bath if you have an old style shower head. You can soak as long as you want without using any extra water. A bathtub holds about 189.27 litres (¼ cubic yard). If you like shorter showers, or if you have a modern shower head, showers are more efficient than baths.

The flows from energy-efficient showerheads range from as low as 3.80 litres/minute (1 US gallons/minute) up to 9½ litres/minute (2.51 US gallons/minute), with the most common around 5 litres/minute (1.32 US gallons/minute). These compare to older units at around 14 litres/minute (3.70 US gallons/minute).

Modern front-loading washers use much less water than the older tub designs.

When you are shopping, reduce meat consumption, using it more as a condiment. 453.59 grams (1 lb) of beef requires an input of approximately 9.46 cubic metres (12.38 cubic yards) of water (50 bathtubs full), whereas a pound of soy requires 946.35 litres (1.24 cubic yards) of water and a pound of wheat only 94.64 litres (3.34 cubic feet). With the water used to produce a single hamburger, you could take a luxurious shower every day for two and a half weeks. So reducing meat consumption is by far the most effective way to conserve water.